Ayang Achumboro Jacob was adjudged the overall student of the Doctor of Veterinary Medicine class of 2022 at the Kwame Nkrumah University of Science and Technology (KNUST) School of Veterinary Medicine's 8th Oath Swearing and Induction ceremony on the 23rd of March 2023.
He also won 13 out of 20 awards during that ceremony and was recognized as the best student in Physiology, Immunology, Virology, Bacteriology & Mycology, Pharmacology, Pathology, Theriogenology, Surgery, Clinical Rotation, and Avian Medicine.
Ayang Achumboro Jacob grew up in Sandema, a small community in the Upper East Region of Ghana where he completed his Primary and Junior High School Education. He then proceeded to Bolgatanga Senior High School, representing them in the National Science and Math Quiz in 2015.
Jacob gained admission to KNUST in the year 2016, to pursue a doctorate degree programme in Veterinary Medicine. He graduated in the year 2022 and is currently a House Officer at the KNUST Veterinary Teaching Hospital.
Jacob delved into leadership roles, first becoming the General Secretary of the School of Veterinary Medicine Student's Association in 2018 and two (2) years later went on to become the President of the School's Students Association, making him a two-time senator at the KNUST Health Sciences Students Association (HESA).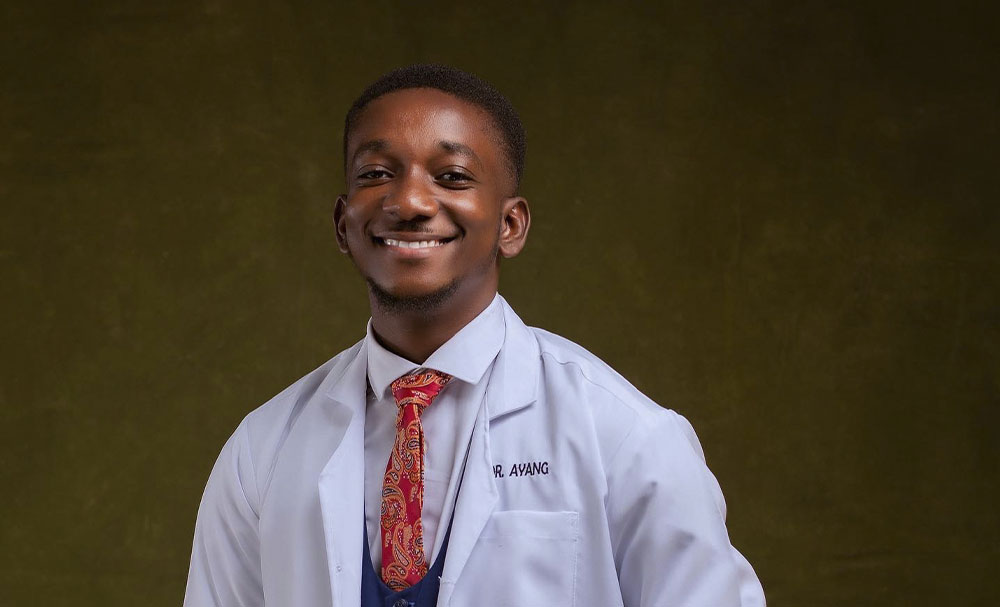 He aspires to be a Veterinary Pathologist and also set up a laboratory in Ghana to train the next generation of researchers enabling them to solve our society's most pressing needs. Jacob's research interests are in pathology with an emphasis on the cellular and molecular level of diseases for a better understanding of the pathogenesis of diseases and also in emerging zoonotic diseases to elucidate their epidemiological trends. He is very passionate about animal welfare and is the Global Partnerships Manager and Corporate Campaigns Lead at Animal Welfare League, an NGO that is dedicated to improving the welfare of animals in Ghana.
Seeking to make his mom proud is his biggest motivation, "she always says understanding a challenge is the surest way of fashioning a solution unique to tackling it" he said. Also, these two books, As a Man Thinketh by James Allen and The Alchemist by Paulo Coelho constantly renew my drive to work hard, he added.
Advising students who aspire to be great, he said, "An understanding that our limits are self-imposed will allow us to fashion paths to becoming what we fervently hope to be. Everything may seem difficult at first but there is nothing that a strong faith and an unflinching purpose cannot accomplish."
Finally, he expressed gratitude to God for his renewed blessings, to his late mother (may her soul rest in peace) and to Heather Menezes for her all her love, care, and guidance all through my life, and to the faculty of the School of Veterinary Medicine for teaching him and colleagues with passion and generally looking out for them.