Sixty-One (61) students of the Doctor of Veterinary Medicine Programme (DVM) at the Kwame Nkrumah University of Science and Technology (KNUST), have been ushered into their clinical years of study at the 8th White Coat Ceremony held on Friday, 9th June 2023.
The event marks the rite of passage into the last 2 years of the DVM Programme, referred to as the 'Clinical Years,' after an initial 4 years of rigorous academic and professional training.
The Chairperson for the occasion, Professor Ellis Owusu-Dabo, the Pro Vice-Chancellor, delivered an inspiring message to the students, urging them to cultivate and nurture their skills and knowledge during this critical stage of their education. He stressed the importance of adaptability and flexibility, encouraging the students to generate innovative ideas that would contribute to advancements in the fields of science and technology. He added that as they progress through their final two years of study, the KNUST community and the nation at large anticipate the remarkable contributions they will make to the field of veterinary medicine.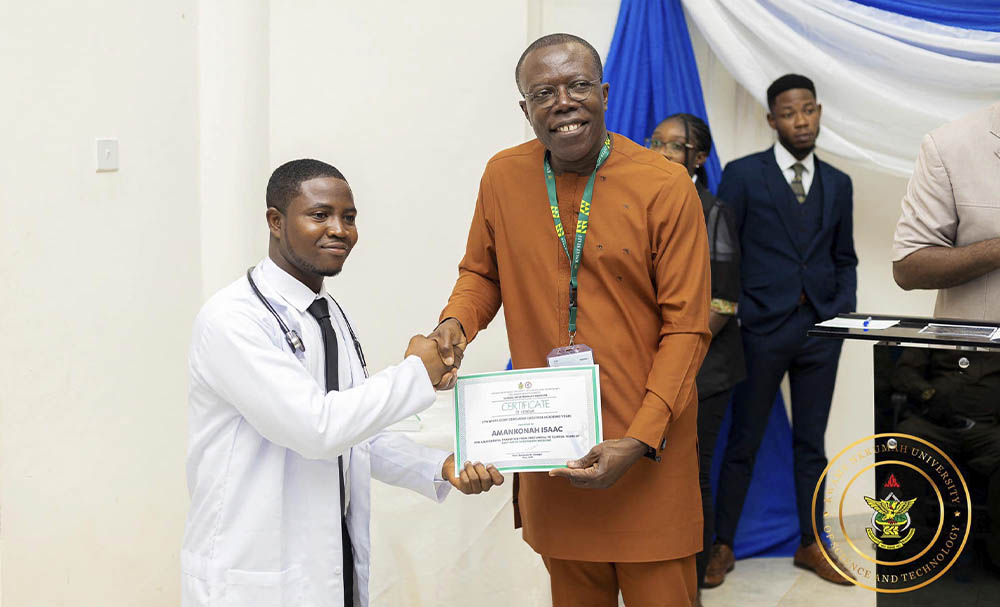 In his remarks, the Dean of School of Veterinary Medicine (SVM), Professor Benjamin Emikpe stated that the ceremony is symbolic as it signifies a transition from the acquisition of pre-clinical knowledge to clinical knowledge. He added that the clinical phase is a crucial stage of apprenticeship as it would determine the student's potential as future veterinarian. He urged the students to ask thought-provoking questions, take diligent notes, and reflect on their career aspirations, and encourage them to be proud ambassadors of KNUST. He further seized the opportunity to call for additional staffing and support to realise the vision of establishing the SVM Teaching Hospital. He also thanked the sponsors for supporting the ceremony.
Presenting certificates to the students, the Provost of the College of Health Sciences, Professor Christian Agyare congratulated them and urged the students to ensure Professionalism as they apply the knowledge and skills acquired in practical settings. He assured the Dean that plans were underway regarding the establishment of the teaching hospital.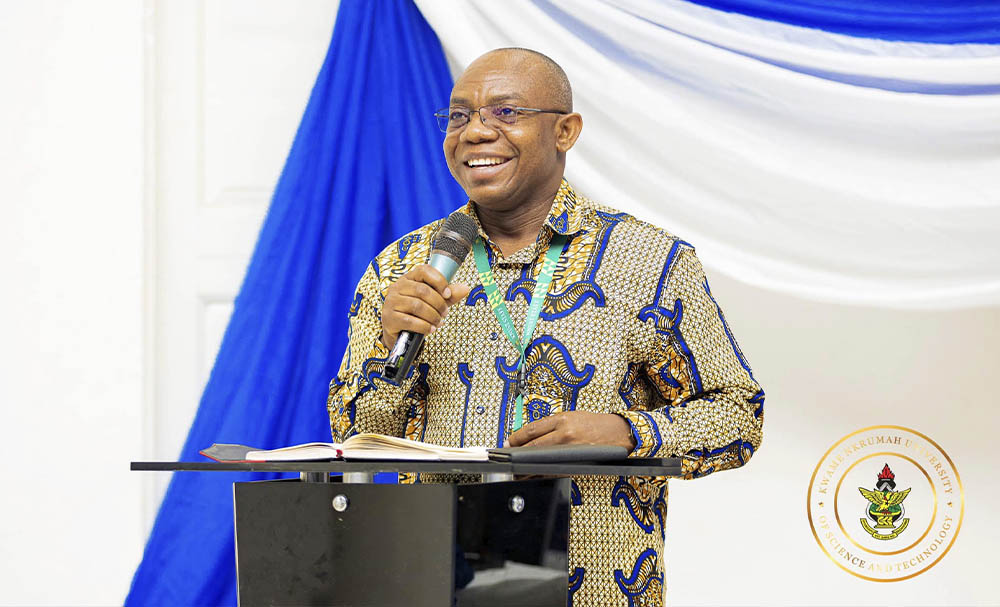 In her goodwill message, the Regional Veterinary Officer, Dr. Mrs. Helena Acquah, provided further motivation to the aspiring veterinarians, emphasising the seriousness and dedication required in the veterinary profession. She reminded the students of their responsibility to protect and improve the health and welfare of animals. Other Faculty members also left the students with words of inspiration.
The 8th White Coat Ceremony was sponsored by UNICHEM Ghana Ltd, Letap Pharmaceuticals, Tobinco Pharmaceuticals, Mulitivet Ghana Ltd, Franicatson Ghana Ltd, EMKHAT Veterinary, among others.