Twenty-three graduands of the Doctor of Veterinary Medicine (DVM) Programme in the School of Veterinary Medicine (SVM) of the Kwame Nkrumah University of Science and Technology (KNUST), Kumasi were inducted into veterinary practice on Thursday, 23rd March 2023 at the School's complex.
The induction ceremony is a significant rite of passage for practitioners of veterinary medicine, underscoring the critical importance of the ethical standards that guide the treatment and prevention of cruelty to animals. Dean of SVM, Professor Benjamin O. Emikpe presented the new Veterinary Doctors, comprising eighteen males and five females to be inducted into the Veterinary Council of Ghana at the 8th Oath Swearing and Induction Ceremony, Class of 2022.
Administering the Oath, the Chairman of the Veterinary Council of Ghana, Dr. Jonathan Amakye-Anim, implored the new veterinarians to uphold the ethics of the profession and work with integrity. He explained Ethics as a set of moral principles and values that govern an individual or a profession. He added that the Veterinary Oath that every member takes on registration is a public declaration of their commitment to assume the responsibilities and obligations of the veterinary profession. Dr. Amakye-Anim noted that the veterinary profession faces several challenges, including the need for the passage of the Veterinary Surgeon Bill 2021 and the Animal Health Bill 2020. He further hinted that the Council is working to incorporate housemen into the salary structure of civil service, thereby providing opportunities for young doctors to receive adequate training and learning.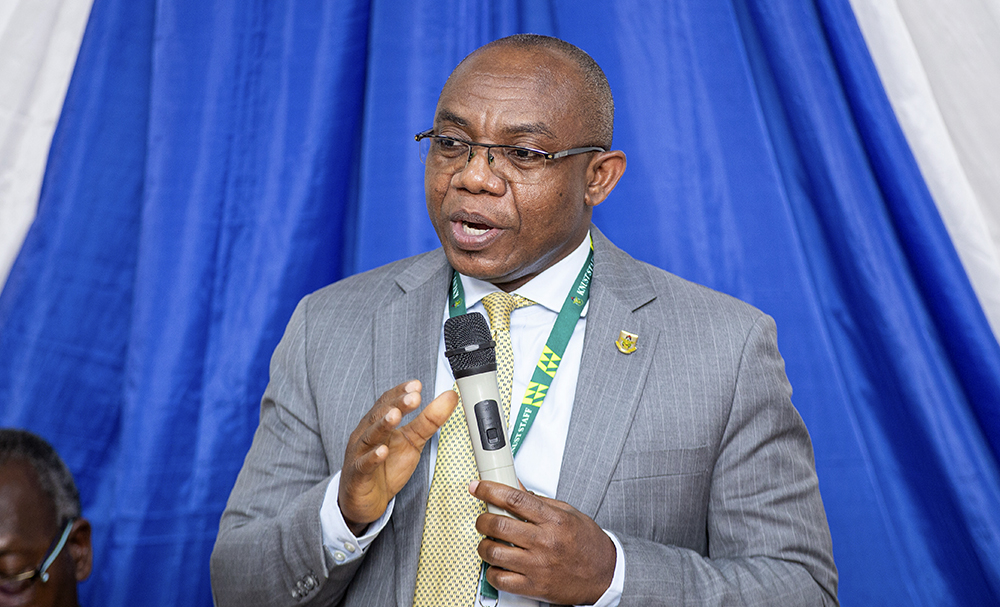 The Provost of the College of Health Sciences, Professor Christian Agyare, admonished the graduands to be mindful of their activities on social media and use the horsemanship period to explore other opportunities. He cautioned that whatever they post on social media must be guided by the need to prioritise the Veterinary profession.
On behalf of the DVM Class of 2022 graduands, Dr. Daniel Abiliba Baba, the Public Relations Officer of the Students' Association expressed gratitude to the faculty and administration of KNUST and called on his colleagues to contribute positively to the development of the profession. "Colleagues, we have the opportunity to help contribute our quota to the development of the Veterinary profession and the public health sector of Ghana. This Class has been a special group," he said.
He hoped that the government would address the issue of housemanship to allow qualified Veterinary Doctors to learn. "One of the current challenges is with housemanship. We call on the government to facilitate this important stage of our profession for young Veterinary doctors to have adequate training and learning," he appealed.
Dr. Jacob Achumboro Ayang was named the valedictorian. He received awards sponsored by Dr. Andrew Quarcoopome and the Dean's Prize for emerging as the Overall Best Student in the DVM programme. He also won the Dr. Peter Boakye-Yiadom Prize as the Best Student in Avian Medicine.
Dr. Fiona Nana Yaa Mensah was awarded the Mrs. Quarcoopome Prize for emerging as the Best Female student.